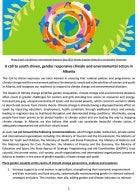 This manifesto includes a series of concrete recommendations to promote gender-responsive solutions to climate change that are youth-led, including innovative actions to push the climate and environmental justice agenda in the country.
The "I Have a Dream" photography project, by UN Women Albania and Jutta Benzenberg, illustrates the dreams of Albanian young and adolescent women from remote areas of the country. This project is a call to society for equal rights and opportunities for defying gender stereotypes.
This research is to identify obstacles to women's participation in the electoral process in Albania and how these may vary across the regions of the country.