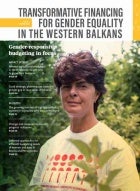 The first issue of the magazine presents a selection of UN Women's contributions and achievements in gender-responsive budgeting in the Western Balkans.
The report on "The impact of the COVID-19 pandemic on specialist services for victims and survivors of violence in the Western Balkans and Turkey: A proposal for addressing the needs" is a rapid assessment of specialist services to women who experienced violence to better understand the challenges posed to service delivery, as well as to explore new opportunities for innovative approaches in light of the COVID-19 pandemic. The rapid assessment was undertaken within the EU-UN Women Regional Programme "Implementing Norms, Changing Minds."
This brief offers a glimpse at how UN Women makes a difference in Europe and Central Asia in gender-responsive budgeting by cooperating with national and local partners to tailor this approach to their priorities.