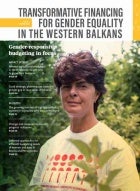 The first issue of the magazine presents a selection of UN Women's contributions and achievements in gender-responsive budgeting in the Western Balkans.
Women from disadvantaged groups, including women with disabilities, Roma, Egyptian and LBTIQ women share their sufferings from different forms of violence, impacting their whole family. This brochure was prepared by Albanian Disability Rights Foundation in cooperation with Roma Women Rights Center and LGTB Alliance in Albania as part of the regional EU-UN Women programme on Ending Violence against Women in the Western Balkans and Turkey.
Funded by the European Union and implemented by UN Women, the three-year programme, 'Implementing Norms, Changing Minds', aims at ending gender-based discrimination and violence against women in the Western Balkans and Turkey. The newsletter highlights stories of women leading change to end violence against women in the region as well as news and the latest updates on the development of the programme.