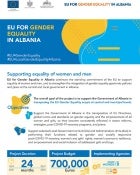 EU for Gender Equality in Albania continues the standing commitment of the EU to support equality of women and men, and to strengthen the integration of gender equality goals into policies and plans at the central and local government in Albania.
The purpose of UN Women's Country Gender Equality Brief (CGEB) is to provide a snapshot of gender equality and the situation of women in Albania, particularly against the gender-related indicators across the Sustainable Development Goals (SDGs). Following the UN Women corporate methodology and template, and in consultation with the UN Country Team (UNCT) in Albania, the CGEB is based on a literature review and uses official data produced before (and partially during) the COVID-19-induced crisis.
Women from disadvantaged groups, including women with disabilities, Roma, Egyptian and LBTIQ women share their sufferings from different forms of violence, impacting their whole family. This brochure was prepared by Albanian Disability Rights Foundation in cooperation with Roma Women Rights Center and LGTB Alliance in Albania as part of the regional EU-UN Women programme on Ending Violence against Women in the Western Balkans and Turkey.