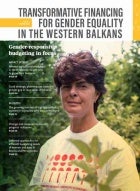 The first issue of the magazine presents a selection of UN Women's contributions and achievements in gender-responsive budgeting in the Western Balkans.
This research is to identify obstacles to women's participation in the electoral process in Albania and how these may vary across the regions of the country.
Following the first survey (2014), which focused on the situation of women in Albania in regards to their voting behavior, the 2017 survey was conducted to elicit citizen opinions on different practices that might intervene with the freedom of voting as well as understand and identify the current systemic flaws behind the high occurrence of such practices.