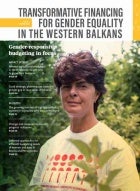 The first issue of the magazine presents a selection of UN Women's contributions and achievements in gender-responsive budgeting in the Western Balkans.
This dedicated protocol guides the operation of public and nonpublic residential centers providing shelter services to victims of domestic violence and human trafficking in Albania during the COVID-19 pandemic.
Funded by the European Union and implemented by UN Women, the three-year programme, 'Implementing Norms, Changing Minds', aims at ending gender-based discrimination and violence against women in the Western Balkans and Turkey. The newsletter highlights stories of women leading change to end violence against women in the region as well as news and the latest updates on the development of the programme.