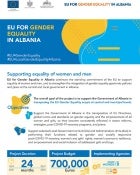 EU for Gender Equality in Albania continues the standing commitment of the EU to support equality of women and men, and to strengthen the integration of gender equality goals into policies and plans at the central and local government in Albania.
The report on "The impact of the COVID-19 pandemic on specialist services for victims and survivors of violence in the Western Balkans and Turkey: A proposal for addressing the needs" is a rapid assessment of specialist services to women who experienced violence to better understand the challenges posed to service delivery, as well as to explore new opportunities for innovative approaches in light of the COVID-19 pandemic. The rapid assessment was undertaken within the EU-UN Women Regional Programme "Implementing Norms, Changing Minds."
Gender Brief Albania 2016 gives an overview and analysis of gender equality in Albania. It captures on-going work, reviews progress and identifies gaps in implementing Albania's international and national commitments on gender equality and the empowerment of women. To support EU policy makers in tailoring pre-accession assistance to the Government of Albania, it presents priority actions to improve the lives of Albanian women and girls in six key areas and identifies new, emerging sectors that require action.