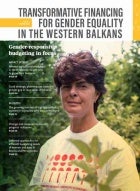 The first issue of the magazine presents a selection of UN Women's contributions and achievements in gender-responsive budgeting in the Western Balkans.
A media monitoring study was conducted prior, during and after the general elections in Albania in 2021.
Developed in consultation with the International Federation of Journalists and UNESCO's many other global media partners, this publication presents Gender-Sensitive Indicators for Media (GSIM), global indicators that aim to voluntarily enrich freedom of expression and the independence of media by assisting media in issues relating to gender equality and women's empowerment. The GSIM are available in several languages, including Albanian.