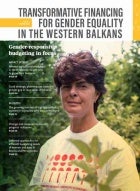 The first issue of the magazine presents a selection of UN Women's contributions and achievements in gender-responsive budgeting in the Western Balkans.
This dedicated protocol guides the operation of public and nonpublic residential centers providing shelter services to victims of domestic violence and human trafficking in Albania during the COVID-19 pandemic.
Based on monitoring of print media in 2014, this publication gives a comprehensive overview on how Albania's print media reports on human trafficking of women and girls, a serious concern there. It identifies key issues and offers journalists, media leaders, public institutions, the police and other actors a set of recommendations to improve reporting on trafficking of women and girls and more effectively fight trafficking.