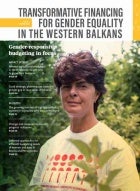 The first issue of the magazine presents a selection of UN Women's contributions and achievements in gender-responsive budgeting in the Western Balkans.
This study looks at the different dimensions of sexual harassment and other forms of gender based violence against women and girls in urban public spaces in the cities of Shkodra and Korça.
This  study  looks  at  the  different dimensions  of sexual harassment  and other  forms  of gender  based violence  against Albanian  women and  girls in urban public spaces.