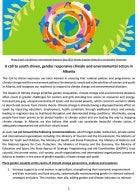 This manifesto includes a series of concrete recommendations to promote gender-responsive solutions to climate change that are youth-led, including innovative actions to push the climate and environmental justice agenda in the country.
This  study  looks  at  the  different dimensions  of sexual harassment  and other  forms  of gender  based violence  against Albanian  women and  girls in urban public spaces.
Gender Brief Albania 2016 gives an overview and analysis of gender equality in Albania. It captures on-going work, reviews progress and identifies gaps in implementing Albania's international and national commitments on gender equality and the empowerment of women. To support EU policy makers in tailoring pre-accession assistance to the Government of Albania, it presents priority actions to improve the lives of Albanian women and girls in six key areas and identifies new, emerging sectors that require action.