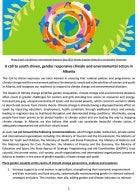 This manifesto includes a series of concrete recommendations to promote gender-responsive solutions to climate change that are youth-led, including innovative actions to push the climate and environmental justice agenda in the country.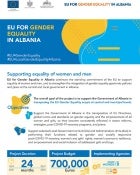 EU for Gender Equality in Albania continues the standing commitment of the EU to support equality of women and men, and to strengthen the integration of gender equality goals into policies and plans at the central and local government in Albania.
The report presents an analysis of the initial and differing impact the COVID-19 pandemic has had on women and men in Albania, Bosnia and Herzegovina, Kosovo*, North Macedonia and Serbia . The report outlines government measures and subsequent budget rebalancing and reveals anlysis on the initial gender impact with focus on country specific selected sectors.