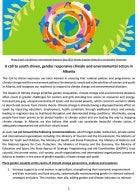 This manifesto includes a series of concrete recommendations to promote gender-responsive solutions to climate change that are youth-led, including innovative actions to push the climate and environmental justice agenda in the country.
This report presents the main findings, lessons learned, conclusions and recommendations of the Country Portfolio Evaluation of the UN Women Albania Country Office Strategic Note 2017– 2021, conducted between January and July 2021.
This publication describes UN Women Albania's programme of work for the period 2022-2026. It highlights key areas of contribution of the Country Office across UN Women's triple mandate of UN Coordination, normative support and operational activities.