I am Generation Equality: Aliénor Béjannin, UN Youth Volunteer serving at UN Women Albania
Billions of people across the world stand on the right side of history every day. They speak up, take a stand, mobilize, and take big and small actions to advance women's rights. This is Generation Equality.
Date: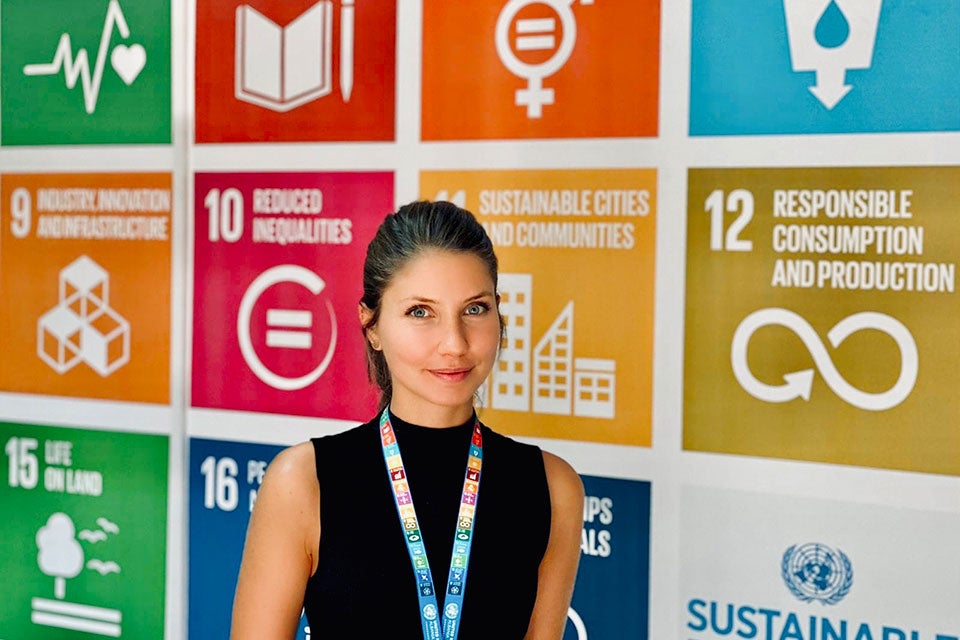 I am Generation Equality because…
Three actions you can take:
Take time to learn about and understand your own privileges
Do not feel intimidated to speak up
Invite people around you to participate, even at a small scale
"Advocating for gender equality globally has guided my choices in life, both personally and professionally, for many years; I never pictured myself doing anything else. However, my understanding of gender issues has evolved a lot over time. Although no society is spared from the social, economic and political exclusion of women, nor from violence against women and girls, these inequalities take various forms. More importantly, I have also learned that women's and girls' resistance can be translated in many ways across regions and countries.
Opening up to other women's experience of sexism is an enlightening experience and an ongoing commitment because it leads to a better understanding of what we call 'intersectionality', i.e. the complex, inextricable interaction between different systems of discrimination. It reminds us of the necessity to challenge our own views, and to listen. In conversations about gender, race, disability or sexual orientation, to name but a few, we must accept that feeling uncomfortable is a requirement for transforming dialogue into a learning experience.
On a day-to-day basis, it can sometimes feel overwhelming to try and explain in five minutes what it took you years to deconstruct, especially if other people are feeling judged and patronized. It is also frustrating not to be taken seriously. Some comments made against feminists and women activists are extremely violent, especially now that the internet has become an increasingly important means for people to make their voices heard - for better and for worse. Despite the pushback, I can see that things have changed in the past decade. The people I meet seem more aware of gender inequalities, harmful stereotypes and, more importantly in my view, the role that everyone should play in tackling them.
Bringing youth perspectives to the UN

"I have complete trust in the new generation of feminist activists, girls and boys. Beyond debates, they are demanding action for change, and they want it now."



I believe we need coalitions of activists coming from various backgrounds and sectors. The Generation Equality embodies this imperative, by strengthening multi-stakeholder engagement and bringing together diverse groups of individuals across generations who would otherwise not have the opportunity to connect with each other. Serving as a UN Youth Volunteer at UN Women in Albania also illustrates the efforts made to build intergenerational connections internally, within the UN system. It is an opportunity to participate more actively and bring youth perspectives to the table. My work at UN Women also reflects this multi-partner approach. We are building bridges with the private sector in Albania through the Women's Empowerment Principles and actively engaging civil society organizations throughout our projects.
I have complete trust in the new generation of feminist activists, girls and boys. Beyond debates, they are demanding action for change, and they want it now. For the first time, we seem to understand the necessity to open everybody's eyes, not just on women's rights, but on all gender-related issues as they affect everyone, men and boys, women and girls alike. I am proud to be part of this movement and eager to see the future that the Generation Equality will shape.
---
Aliénor Béjannin is a passionate advocate for gender equality. She is a Swiss-French national who has lived in France, Canada, the United States, South Korea, and Guatemala. She is now based in Tirana, Albania, where she serves as a UN Youth Volunteer in Programme Management and Coordination at UN Women.