Joint advocacy initiatives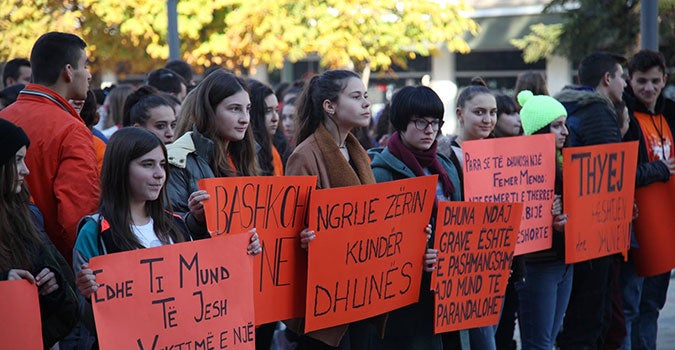 16 Days of Activism against Gender-Based Violence
Every year, United Nations agencies in Albania join the 16 Days campaign to call for the prevention and elimination of violence against women and girls. They organize activities from 25 November, the International Day for the Elimination of Violence against Women, to 10 December, Human Rights Day.
During the 16 days, UN agencies in cooperation with the Government and Civil Society Organizations, organize, under the dedicated yearly theme, several events such as: conferences, seminars, public discussions, marches, artistic performances, etc. Online and offline social media campaigns are ran to stimulate public conversations and educate the public on what individuals and organisations can do to end violence against women. In addition, every year, key monuments and buildings around Albania were lit up in orange, which represents a brighter future, free from violence for women and girls.
Sustainable Development Goals Week
Each year UN Women in Albania joins the Global Goals Week, an annual week of action where the United Nations and partners from around the world come together to drive action, raise awareness and hold leaders to account in order to accelerate progress of the Sustainable Development Goals (SDGs), also known as the Global Goals.
UN agencies in Albania have teamed up to attract public attention through many exciting events and activities. Exhibitions, hackathons, lectures, public forums and trainings, social media campaigns were organized throughout the country. They were joined by students, the private sector and civil society aiming to raise awareness and encourage action to achieve the Goals. The Global Goals Week has cultivated ideas, identified solutions, and generated meaningful partnerships for the SDGs.