International Day of Rural Women gives voice to the successes and challenges of women entrepreneurs in Albania
Date: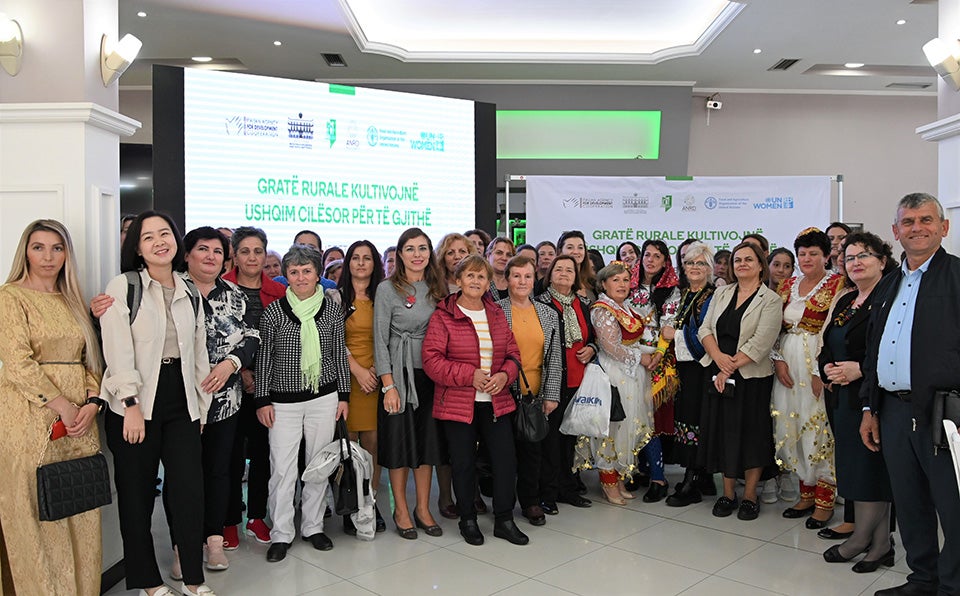 15 October 2022 – More than ninety women and girls from four regions of Albania celebrated the International Day of Rural Women in a fair event organized by UN Women and supported by the Albanian Network for Rural Development. They discussed the challenges faced by women in the agri-food sector in the presence of representatives from the Ministry of Agriculture and Rural Development, the Italian Agency for Development Cooperation and Municipality of Elbasan officials.
"Through the Gender Rural Equality and Tourism Project, the Ministry of Agriculture and Rural Development, together with UN Women and FAO, are committed to developing the capacities of rural women and strengthen their role and contribution in rural development," said Ermira Gjeci, Deputy Minister of Agriculture and Rural Development.
The Gender Rural Equality and Tourism Project, funded by the Government of Italy and implemented by UN Women and FAO will, among other contributions, will recondition two incubator buildings into new working premises for the women's groups that will be formed. This intervention will directly help tackle the issue of the lack of ownership of productive assets by rural women.
Angelica Ranieli, Representative of the Italian Agency for Development Cooperation, noted how women's work ensures the well-being of their families and of rural areas more generally. "The support for incubators is special because not only will it help women to work in a safe environment but it will also raise the standards of agricultural products and their marketing into the EU market."
Women living in rural areas in Albania make a crucial contribution to agriculture and the broader socio-economic life of the country. In 2020, 41.4% of women worked in agriculture compared to 31.8% of men, supporting the sustainability of rural households and communities at large.
"Despite rural women's high participation rate in agriculture and their significant contribution to rural development, gender disparities in land ownership still persist. Only 8% of family farms are headed by females. Challenges include discriminatory norms and stereotypes, which exist within the household and the community," Estela Bulku, UN Women Programme Officer highlighted.
Women farmers from Kolonja, Korça, Elbasan and Puka, participating at the event demanded that central and local authorities must act to improve their well-being and reduce the constraints that adversely affect their productivity and entrepreneurial potential.
"Our laws are perfect, like clear crystal water, but they become cloudy along the way, during implementation, and that's why we face challenges. I call on the local government to intervene and support rural women's groups and to formalize their agricultural activities," said Marie Frroku, representative of Qerret Women's Group, in Puka, northern Albania.
The event was organized as part of UN Women Gender Rural Equality and Tourism Project, implemented with FAO, with the support of the Government of Italy.