The Albanian Banka Kombëtare Tregtare (BKT- National Commercial Bank) made a financial donation to Women's Forum Elbasan – an NGO which also runs a shelter for women survivors of violence. "The BKT is a signatory of the WEPs and actively participates in activities aiming to contribute to women empowerment and promotion of gender equality. During the 16 days we launched several campaigns that highlight the importance of educating people as early in their lives as possible with a view to increasing everyone's awareness about taking action to prevent violence," said Mr. Fatih Karli, Group Head, HR & Developments Group.
BKT and Intesa Sanpaolo Bank displayed the campaign's key messages in all their ATMs across Albania. Matrix Konstruksion, a major construction company, contributed by providing free advertising space for campaign messages within a shopping center. The Metropolitan University of Tirana and UN Women Albania co-hosted an event with university students to discuss and raise awareness on ending violence against women and girls. The Balfin Group also put up the campaign's main messages in two major commercial centers.
Throughout the days of the campaign, all WEPs signatories oranged their logos and social media spaces, dedicating them to messages and statements against gender-based violence.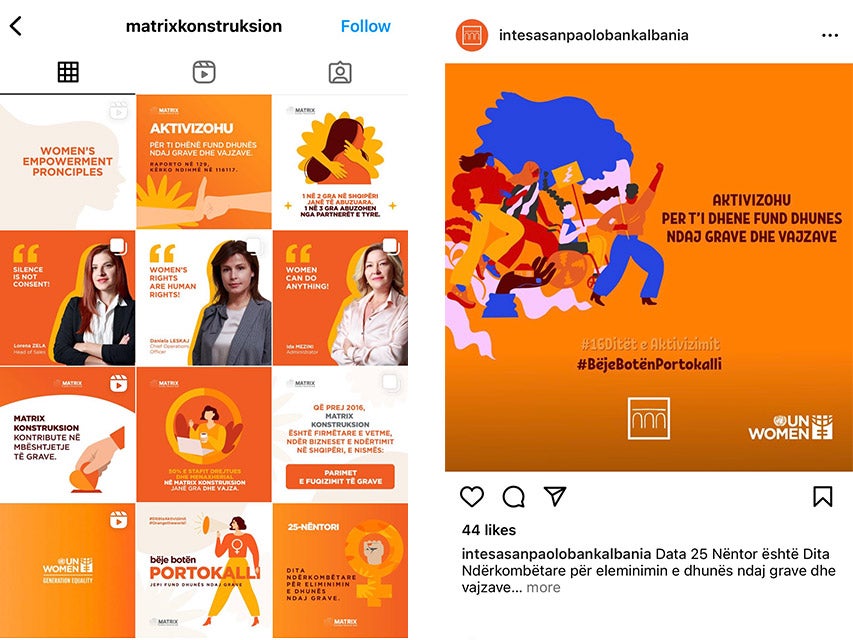 Young artists were engaged to cultivate awareness about the importance of ending violence against women and girls through their artwork. Fourteen artworks were painted in public spaces around Albania, as part of the 'Violence OFF – Power ON' initiative undertaken by the Union of Albanian artists "Bash-Art", with the support of UN Women and international partners. In addition, on the occasion of 16 days of activism two murals were also unveiled. Drenusha Zajmi's painting in Durrës and Ilektra Jole's in Lezha aimed to promote the power of women and raise awareness on gender equality.
"Citizens liked it and it fits in very well with the town itself. I hope that the mural will fully convey what I felt when I created the work and that it will go straight to people's hearts and minds," said Ms. Ilektra Jole.
The production of the murals was supported with funds by the Embassy of Sweden to Tirana and the European Union.
"During the 16Days of activism against gender-based violence, "Bash-Art", the Union of Albanian artists created and promoted thematic murals in fourteen towns to raise awareness and promote a society free from discrimination and violence and with equal opportunities for all," said Bash-Art director, Ms. Iliriana Basha.
Any day is the right day to empower any woman facing violence, to find her strength & denounce violence, so that she can set herself free from its chains and live her life!

**During the ceremony for unveiling the mural in #Durrës, dedicated to raising awareness against #GBV. pic.twitter.com/OTvSLszIUk

— Ogerta Manastirliu (@GManastirliu) December 9, 2022
During the 16 days of activism against gender-based violence, a "FREE to choose" tour was organized in thirteen schools in nine municipalities. The tour was themed around Empowerment through Self-Defense (ESD) as a technique that helps prevent violence and reduce bullying in schools. ESD Albania, in partnership with UN Women, presented various communication techniques, as well as setting boundaries and basic self-defense techniques, as a starting point for managing conflict situations.
These activities were organized both in schools where this methodology has already been piloted and in universities and were supported by the Swedish Government through the United Nations SDG Fund in Albania.
Three different events were organized jointly with the Tirana European Youth Capital 2022. Movie screenings of "HIVE" and 'Love doesn't kill' provoked dynamic discussions on topics such as toxic relations, masculinity, patriarchal norms, and gender stereotypes, that still impact the way girls go about their lives in Albania and expectations about their behavior. At the meetings with youth in Lezha (in Northern Albania) and Kamza (Central Albania) young people highlighted individual actions against any and all forms of violence against women and girls, such as the importance of knowledge sharing, learning to tell signs of abuse, listening and supporting survivors, and as discussing and challenging persisting societal norms and stereotypes.
Të rinjtë janë promotorë të të drejtave të njeriut 🙋🏼‍♀️16 ditë aktivizëm & 365 ditë veprim për ndalimin e dhunës ✋🏼ndaj vajzave dhe grave mblodhi në një diskutim të udhëhequr nga të rinjtë 👥 partnerë & pjesëmarrës që u bashkuan me fushatën e @unwomenalbania dhe @NYC_Albania pic.twitter.com/ydts9bFOsz

— Tirana EYC 2022 (@tiranaeyc) December 1, 2022
Over the course of two days, events were also held in Korça (Southeastern Albania), in cooperation with the French Embassy and the Spanish Embassy. On the first day, the screening of Xavier Legrand's movie "Jusqu'à la garde" sparked discussions among citizens and youth. On the second day, in a meeting with representatives of local authorities and civil society organizations, the discussions focused on the socio-economic empowerment of women and reintegration of survivors of violence in the society.
Five lectures were hosted at several faculties in universities in Tirana, with the participation of students of social sciences, economics, law, international studies, medicine, computer science, etc. UN Women shared information about the 16 days of activism against gender-based violence, the different forms of violence, where to ask for support and how young people can become activists. Some of the lectures were presented jointly with representatives from UNICEF and WHO offices in the country. "Achieving gender equality requires people to engage. For this reason, during this year's 16 days of Activism, the Metropolitan University of Tirana encouraged its students to think what they would do to end gender-based violence. Our students shared their thoughts and ideas on display boards that were put up around the university campus specially for this purpose," said Mr. Arjan Çukaj, Administrator of the Metropolitan University of Tirana.
#UNICEFAlbania & @unwomenalbania during an open-lecture w/ students of the Faculty of Social Science regarding Gender-based violence. GBV undermines the health, dignity, security & autonomy of its victims, yet it remains shrouded in a culture of silence. #BreaktheSilence #16days pic.twitter.com/0yKg1lJBNA

— UNICEF ALBANIA (@albania_unicef) December 18, 2022
UN Women supported the UNOPS office in the country in raising awareness among contractors and beneficiaries of the EU for Culture programme about preventing sexual exploitation, abuse, and harassment in the workplace. They also placed informative posters advertising hotline numbers in major cultural sites that are being currently refurbished throughout Albania.
Get active to end violence against women and girls! Report violence calling 129 and ask for help at 116117!

UNOPS Albania promotes a safe working environment where everyone has the opportunity to #SPEAKUP.

Against the pushback on women's rights, let's #PushForward! pic.twitter.com/eaehVhB1hf

— EU4Culture Albania (@eu4culture) December 5, 2022
With @unwomenalbania we held awareness sessions for our EU4Culture contractors, implementing partners & women artisans engaged through our grants projects on prevention from sexual exploitation, abuse & harassment in line with the UNOPS standards. pic.twitter.com/cF7b3ESrOV

— EU4Culture Albania (@eu4culture) December 10, 2022