Nurturing Safer Digital Spaces: Empowering Youth Against Hate Speech in the Western Balkans
Date:
Originally published by UN Peacebuilding.
Fake news, misinformation, and hate speech are causing significant harm to mental health, exacerbating social divisions, and eroding trust in public institutions throughout the Western Balkans. Marginalized groups, particularly women and girls, are frequently targeted by hate speech. Of particular concern is the role of social media, which has become a fertile breeding ground for disinformation.
In order to foster trust and inclusive online spaces for young people, the United Nations Development Programme (UNDP), the United Nations Population Fund (UNFPA), UN Women (The United Nations Entity for Gender Equality and the Empowerment of Women), and UNESCO are collaborating to empower young individuals to take a stand against hate speech and cultivate a safer digital environment. This $4.5 million initiative, funded by the UN Peacebuilding Fund (PBF), is being implemented over two years across the Western Balkans. The project engages a diverse range of youth, including students, journalists, decision-makers, politicians, artists, and activists.
The project has helped increase knowledge and participation concerning the interconnections between gender equality, social cohesion challenges, and sustainable development in the region. UN Women has established a safe space for 150 young people to convene, deliberate, and gain a deeper understanding of the societal and patriarchal barriers that women still encounter. The pivotal role of women in creating inclusive, peaceful, and egalitarian societies, as well as promoting youth engagement in decision-making processes, has been highlighted.
"Through projects like this, we show that we have not stopped in time and that we can progress only when we are given the opportunity," said Emina Šehović, student, Faculty of Political Science, University of Sarajevo.
The initiative empowers young people to familiarize themselves with various forms of hate speech in both traditional and social media platforms, equipping them with the skills to report and oppose such speech. With the guidance of expert mentors, young participants design campaigns centered around issues that resonate with them, ranging from promoting youth democratic engagement to conveying anti-hate speech messages.
In Albania, young individuals have developed small-scale project ideas aimed at countering hate speech. Some of the most promising ideas receive mentorship and financial support. Winning proposals encompass diverse initiatives, such as graffiti promoting peacebuilding in a particular city, the production and dissemination of a series of short animations highlighting the value of democratic processes on social media, and a collection of podcasts aimed at fostering young people's interest and involvement in voting and social activism.
In Serbia, over 80 young people have undergone training focused on transferring the skills to recognize and combat fake news, toxic narratives, and online hate speech. Through in-depth sessions on media literacy and critical thinking, these young minds have been empowered to distinguish fact from fiction, counter the dissemination of disinformation, and create evidence-based campaigns on youth media platforms.
The project facilitates collaboration among universities in the region and provides young people with opportunities for exchanges across the region. In Albania and Kosovo1, the project supports the next generation of journalists through facilitating partnerships with universities and multi-community media organizations and outlets. Young journalists from diverse ethnic backgrounds are empowered to engage with media platforms, crafting constructive narratives, countering hate speech, and challenging negative gender norms through youth-led story writing and publication in local media.
The initiative has already directly engaged with over 3,500 young people, who are now more confident in recognizing and combatting hate speech while being assertive in expressing their ideas. Through their advocacy efforts, they are addressing a range of positive issues, including Roma education, reconciliation, gender equality, political inclusion, environmental policies, the rights of people with disabilities, and LGBTIQ+ rights.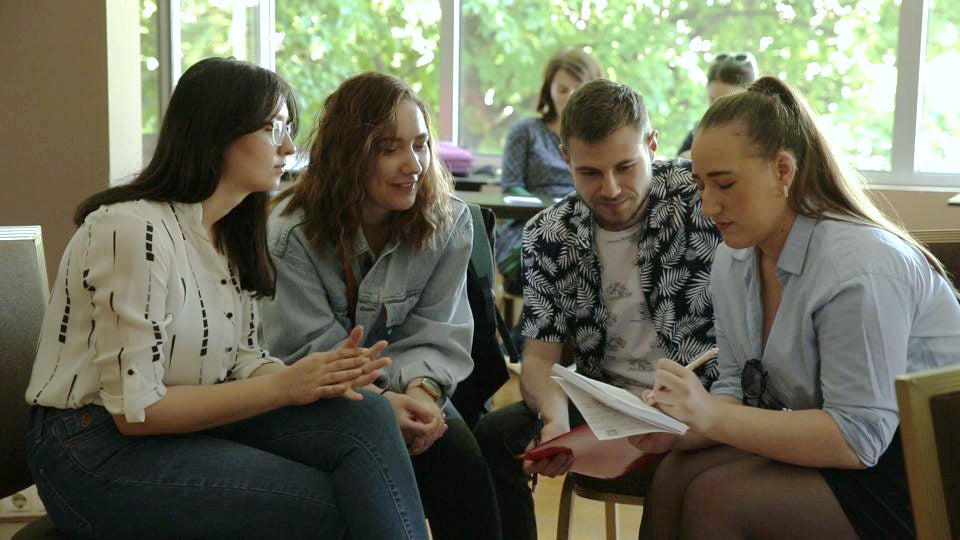 By leveraging existing networks and resources from previous PBF-supported projects in the Western Balkans, the initiative has already initiated some changes. In Bosnia and Herzegovina, the project is helping to ensure the sustainability of the Youth Peer Peacebuilding manual by universities integrating it into their courses. This initiative aims to reach young people who have not yet participated in intercultural dialogue activities, including those affected by intergenerational trauma.
Young trainers in Bosnia and Herzegovina and Albania attest that the training programmes help them adopt a more inclusive stance and value diverse perspectives.
One young trainer from Bosnia and Herzegovina states, "The training challenged my biases, teaching me to approach conflicts with a problem-solving mindset, seeking collaborative and peaceful solutions. Moreover, it gave me a deep appreciation for the power of dialogue and active listening. I now recognize the importance of creating safe spaces for open and honest conversations."
Since the inception of the project, over 315 young people in Albania have enhanced their knowledge and capacities in countering hate speech, discrimination, and bullying. As the lead implementers of these training activities, the Y-Peer network of Trainers of Trainers employs a training approach, utilizing a "Youth Peer Education for Peacebuilding and Conflict Transformation" manual developed in the previous PBF-supported project of the Regional Youth Cooperation Office (RYCO), which has been simplified and tailored to the specific needs of the area, community, and target youth group.
"Participation in the process of creating the National Strategy for Youth, besides sowing a promising future, will also bear fruit by giving a sense of belonging, respect, improving personal development and skills, and empowering us, the youth," said Adriatik Llugiqi, Head of the Kosovo Youth Assembly.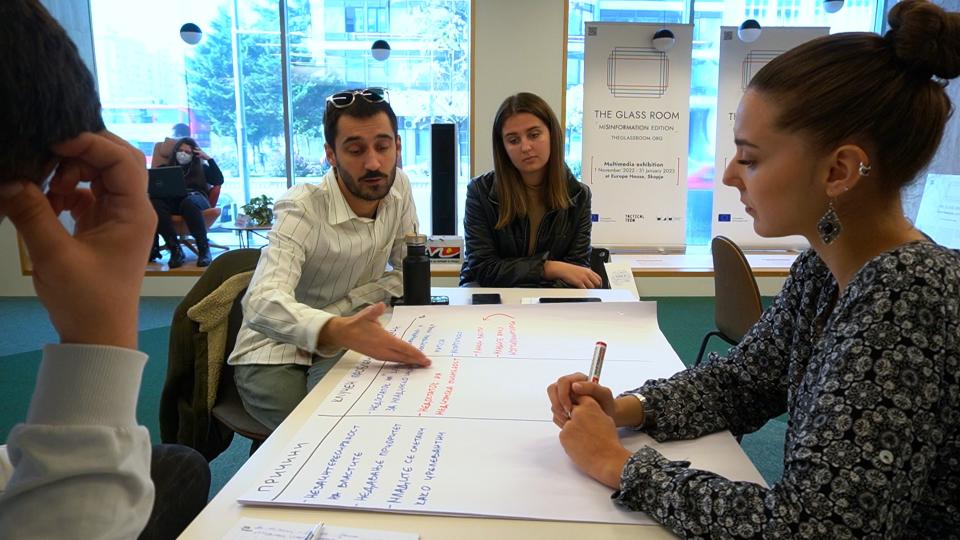 The project has strengthened the capacity of national and local bodies in Bosnia and Herzegovina, North Macedonia, and Kosovo, to engage with youth in policymaking alongside youth organizations and civil society. As a result, the ideas and priorities of young people are being integrated into North Macedonia's National Youth Strategy 2023-2027, a process led by the Agency for Youth and Sports with UNDP support. This process involved extensive consultations with students, young parliamentarians, and organizations working with youth and individuals with disabilities. Later in the year, a youth-led and youth-informed plan for advancing the priorities and needs of young people in the country will be adopted.
The project also supports the development of Kosovo's youth strategy through consultations with young people, authorities, civil society, and other partners. The process places young people at the core and prioritizes the eradication of hate speech.
In May 2023, two working groups from North Macedonia and Kosovo convened in Skopje to exchange experiences, learnings, and best practices on youth policy development.
In Albania, a national gathering involving approximately 100 representatives of the Youth Municipal Councils took place in collaboration with the Ministry of State for Youth and Children. This gathering provided an opportunity for young members of municipal youth councils to discuss and devise strategies to strengthen local decision-making structures, free from hate speech and discrimination. The objective is to collaborate with all political parties and central authorities, such as the Ministry of State for Youth and Children, to develop local youth plans and promote participatory and all-inclusive decision-making processes in the cities and regions where these councils are active.
In Bosnia and Herzegovina, the project launched the Youth Peace Policy Lab (YouPOL), which serves as a bridge between public institutions and young people, facilitating the development of policy solutions for issues of mutual interest. The young participants receive technical advice, mentorship, and guidance. YouPOL is now collaborating with the Ombudsperson's institution, the government, and universities in the UK, Slovenia, and Bosnia and Herzegovina.
An awareness and behavior change campaign was launched in Albania against hate speech under the slogan "Fjala vret" (Words hurt). The campaign aims to alter the behaviors and attitudes of young people on social media platforms. Through various communication channels, including traditional and social media, the campaign aims to reach up to 600,000 people monthly.
By equipping youth with these invaluable skills, the project not only empowers young people to navigate the digital world with confidence but also nurtures a generation that champions truth, combats falsehoods, and fosters a more inclusive and well-informed society.
----------------
1References to Kosovo shall be understood in the context of the UN Security Council Resolution 1244 (1999).