Orange the World Campaign in Albania: Listen, Believe, and Support Survivors of Violence
Date:
From trainings in self-defense to real-life stories of survivors of violence, from awareness-raising meetings with various religious communities to donations by the private sector - a wide array of over three hundred activities and events were organized in Albania, appealing to 'listen, believe and support' survivors of violence. The Government of Albania, UN Agencies, women's and youth organizations, private companies, and the media, joined the 16 Days of Activism against Gender-Based Violence.
UN Women organized a number of events commencing on 25 November, the International Day for the Elimination of Violence against Women, through to 10 December, Human Rights Day, with the financial support of the Swedish Government and the European Union.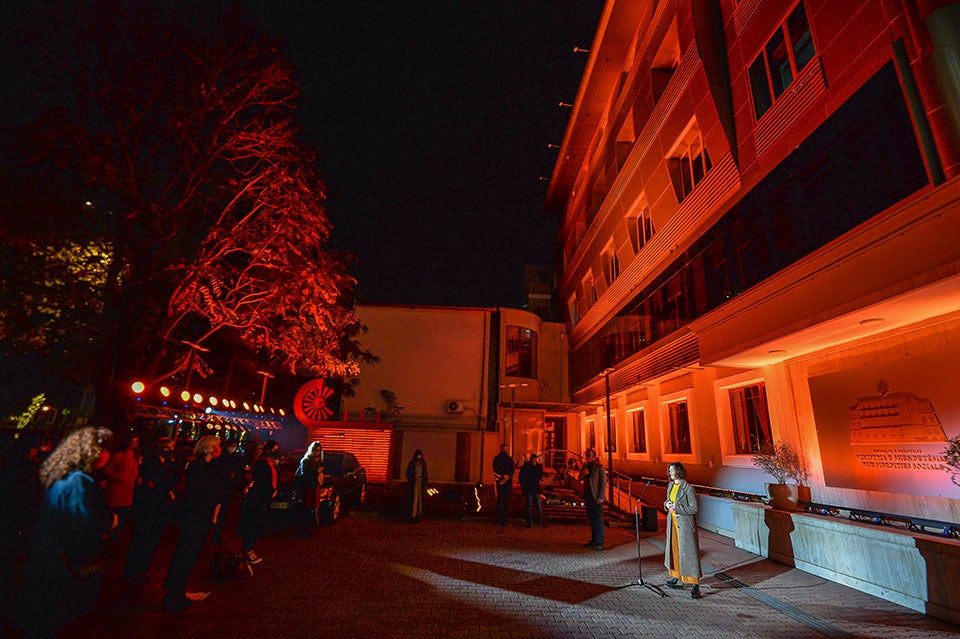 Like in the previous years, buildings such as the Ministry of Health and Social Protection, the UN House and the Cloud were lit up in orange, in support of the call for a brighter future where women and girls can live free from violence. "Let us end violence against women! This shadow pandemic needs to be brought to an end as soon as possible! Every woman saved from violence is a success story that allows us to say: We did it!" said Albanian Minister of Health and Social Protection, Ogerta Manastirliu at the opening ceremony of the campaign.
UN Women organized a first training of trainers' course on empowerment and self-defense for fourteen social workers and activists from women's organizations, who described the experience as 'life-changing'. "My life would have been different if I had done this training when I was fifteen," said one of the participants. Now Albania has the first generation of self-defense instructors who will go on to provide training and support to survivors of violence, as well as to women and girls generally. The training of trainers was conducted in collaboration with Aikido Albania and ESD Global Self-Defense.
"It was an inspiring training. I am so proud of the team on the ground and our partnership with Aikido Albania and UN Women. We planned, adapted, and worked hard to bring empowerment to women in Albania. I am so proud of the work we do! It's all about planting seeds and nurturing them. I believe ESD has a strong future in Albanian because the women who were just trained are those very seeds," said Yehudit Zicklin-Sidikman, Founder and President of ESD Global Inc.
Women and girls who are survivors of violence deserve a better and safer life, free from violence and fear. This video was produced by the Observatory for Children's Rights in Albania as part of the project "Data collection on gender stereotypes and public perceptions of gender roles and attitudes towards violence against women". The video was supported by the EU-UN Women regional programme on Ending Violence against Women "Implementing Norms, Changing Minds."
150 private companies, institutions, and civil society organizations joined for the first time in the 16 Days of Activism online, by turning their virtual spaces and logos orange. They delivered messages of support to survivors of violence and joined in the call for action to prevent and put an end to violence against women and girls during this unprecedented time. Some companies responded to UN Women call to make donations to shelters of abused women and girls. Read more.
An audiovisual exhibition with the real-life stories of ten women survivors of violence was on display in Durrës, 30 km to the west of the capital, Tirana. These success stories, illustrated by several paintings are also part of a book entitled "Ten women, ten life stories that inspire the world," published by women's rights activist Elga Mitre.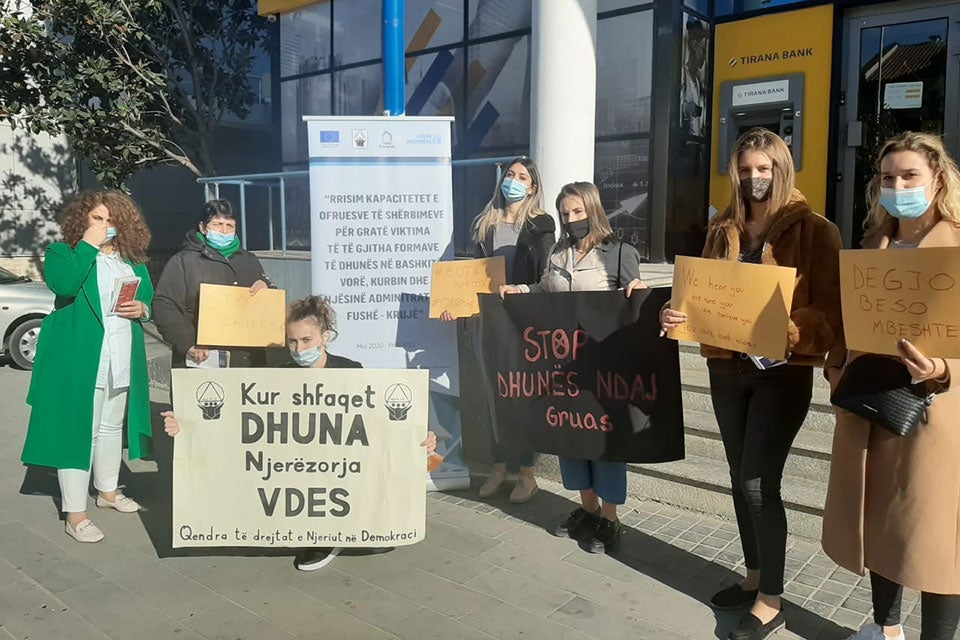 Civil society organizations that are first responders to the needs of women and girls during, as well as pre- and post-COVID-19 crisis organized dozens of informative meetings, both online and offline, encouraging women and girls to report violence even though the pandemic has made access to services difficult.
The Women's Forum in Elbasan organized three public discussions with religious communities in a number of suburban townships. They focused on the importance of talking to boys and men on how they can express their emotions and avoid violence.
The Human Rights in Democracy Center organized trainings on the role of health professionals, police officers and teachers in preventing and reporting domestic violence in rural areas and schools on the outskirts of the capital Tirana. Women and girls from these communities participated in information sessions about the different forms of violence and support services available to them and were encouraged to report violence.
The activities of the Gender Alliance for Development Center focused on informing the public at large on the recent amendments to the domestic law on domestic violence. These new provisions aim at a better protection for victims and survivors and their dependents by providing for the immediate removal of the perpetrator of violence from the home. In addition, the law provides for the obligation of the perpetrator to attend psychosocial rehabilitation programs or a parenting program.
Other events included: a webinar on gender stereotypes in the media with experience sharing from Italy; a regional webinar on the prevention of violence against women with disabilities; a nationwide social media campaign on the detection of early signs of abuse in a relationship and the identification of different types of stalking behavior and patriarchal gender norms.