Youth-Led Regional Consultations: Addressing Gender Inequalities and Social Cohesion
Date:
UN Women organized recently a series of youth-led regional consultations across five territories, Albania, Bosnia and Herzegovina, Kosovo1, Serbia, and North Macedonia. These consultations, part of the "Youth 4 Inclusion, Equality, and Trust" initiative funded by the UN Peacebuilding Fund, provided a platform for 130 young individuals between the ages of 17 and 30 to engage in constructive dialogue on the interconnection between gender equality and social cohesion. This article explores the key outcomes and insights from each region, shedding light on the pressing issues and narratives that influence the pursuit of equality and social cohesion.
Albania: Challenging Gender-Based Violence and Shifting Traditional Norms
Participants in the Albanian consultation praised the introduction of quotas for women's representation in the Parliament and recognized the potential of amplifying women's voices and perspectives. They noted, however, that the country still struggles with gender-based violence, discrimination, and exclusion of marginalized groups such as LGBTQI+ individuals and people with disabilities. The young people highlighted the lasting effects of historical factors, such as the legacy of the communist regime, and stressed the need for fundamental changes to transform traditional norms and roles.
Bosnia and Herzegovina: Overcoming Divisive Narratives and Embracing Women's Role in Peacebuilding
The discussion in Sarajevo revolved around the influence of patriarchal norms, toxic masculinity, divisive narratives, pre-established gender roles, religion, and nationalism, and their impact on gender equality. The participants emphasized the significant role women play in peacebuilding efforts, demonstrating greater effectiveness in negotiations and decision-making in times of crisis. Addressing these barriers requires challenging the present prevailing norms and fostering inclusive narratives.
Serbia: Promoting Inclusion and Combating Toxic Masculinity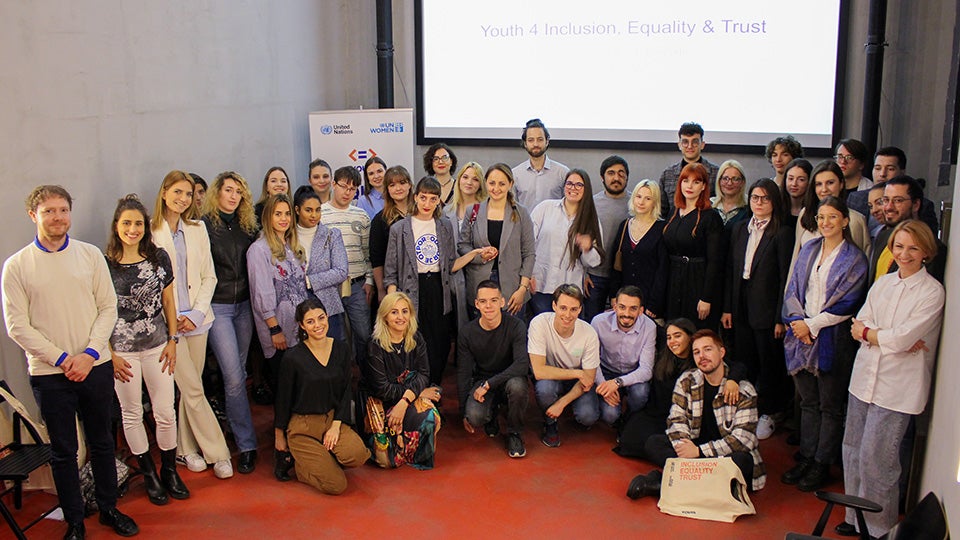 Over 35 young individuals from different parts of Serbia gathered in Belgrade in a discussion forum that focused on the essential role of women and girls in creating inclusive, peaceful, and equal societies. Participants stressed the importance of mutual respect, active listening, communicating with tolerance, enabling women's voices to be heard. They acknowledged the necessity of joint efforts to address toxic masculinity and gender-based violence, which tend to particularly flare up in times of conflict.
Kosovo: Reshaping Narratives and Challenging Traditional Norms
The conversation in Pristina centered around divisive narratives and the effect of traditional and patriarchal norms on social unity. Participants emphasized the need to address inequalities and transform established gender norms and stereotypes to achieve true gender equality. They also highlighted the influential role of media as a powerful change agent, capable of promoting positive examples and challenging negative legacies.
North Macedonia: Combating Systemic Discrimination and Engaging the Young Generation
Twenty-nine young people gathered in Skopje to discuss the effects of gender inequality, systemic discrimination, and toxic masculinity on women and girls' participation in society. Participants highlighted that conservative discourses often perceive gender equality as a threat to social cohesion, rather than a necessity for a just society. They emphasized the vital role of the young generation in challenging such perspectives and driving social change.
The youth-led regional consultations organized by UN Women brought to the fore the need to address gender inequalities and transform narratives that hinder social cohesion. From Albania to North Macedonia, young participants highlighted the urgency of combating gender-based violence, toxic masculinity, and discriminatory practices. They underscored the importance of reshaping traditional norms, promoting inclusive narratives, and fostering the active participation of women and girls in decision-making processes. By engaging in these dialogues and embracing the role of agents of change, the youth are paving the way for a more equitable and cohesive future.
---
1 All references to Kosovo shall be understood in the context of the UNSC resolution 1244 (1999)